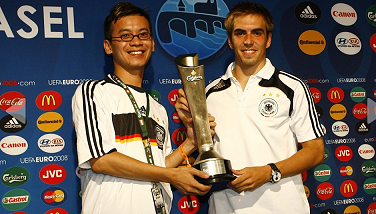 and we have this man to thank. perfection
he's cute huh? I've always liked his red cheeks. random much?
It was such a wtff game, for various reasons; 1. Who knew Turkey could play defence that well. I didn't. 2. The fact that there was a power failure in Basel so the rest of the world couldn't watch the match for a long time, didn't help. 3. There should've been a penalty given to Philip Lahm. Replays say so. 4. The fact that the winner is going to the finals with Russia/Spain. 5. The fact that Zar had put $100 on Germany loosing.
Nonetheless:


Yess. My favourite players in the whole wide world have done it again. Moving one step closer to victory last night in Basel. Yess. Three scorers:
Bastian Schweinsteiger. 25th minute, assisted by Podolski, almost an exact goal recreation like the Portugal match. He equalized the score within 4 minutes. Roar is the stadium.
40th minute: Simone Rolfes and Ayan Akkman's head clashes. Ayan Akkman falls to the ground clutching head, then the camera turns to Rolfes, he is bleeding bad above the left eye. Pshh, and you don't see him rolling on the ground twitching. We see Torsten Frings talking to Joachim Loew. He is one incredible guy, suffering from rib fractures and all and still being able to play. No matter, Rolfes comes back onto the pitch. Yay Germany.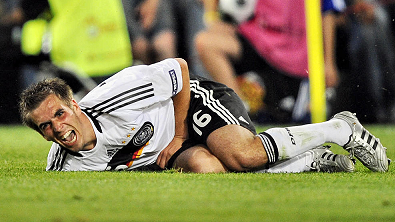 49th minute: Lahm is fed a great ball from the center and tears into the area where his heels are clipped by Sabri Sarioglu. There's a confident shout for a penalty but referee Massimo Busacca waves play on. What. the. fuck. Sorry with the cursing. But replays show clearly PENALTY, if not at least a free kick. Fucking idiotic referee. That's what everyone will be talking about the next day. Now Frings is in the field. He really tightened the midfield. Frings in, Rolfes out.
57th - 61th minute: Tv froze. Aestaticness. We were looking at each other with 'the look'. Then Adam and Jien's faces appear on the telly telling us that there's been a power failure at EBU power point. Jien: "Alamak, the engineer must've been a Croatian, he doesn't want the rest of the world to see what happens because these two beat his country. Kidding." Hmm,
might've been true. You never know.
75th - 85th minute. According to my sources, another lightning bolt hits the EBU power point. Is there a higher power trying to tell us something? Hmm. Score is still 1-1 though.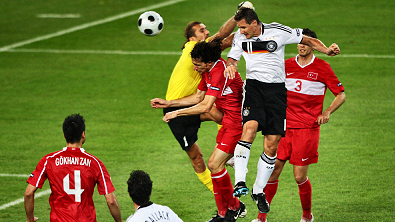 Miroslav Klose, 79th minute. Greatt, just great. He header-ed the ball in sent by Lahm making the score 2-1. Yess, we were throwing stuff around the living room cursing at each other.
80th minute: Problem solved. Finally. Telly is back on. I'm telling you, it isn't nice to be watching Jien and Adam's faces when there are 11 German men out there on the field. Sorry, but that is the truth.
86th min: Turks score equalizer. Lucky shot. Pshh.
Philip Lahm, 89th minute. Everyone's mind was thinking about it going into extra time, even the Turks that were playing. The incredible happens, Lahm, who plays left back, and ocassionally right back, comes breezing into the penalty area and aims for Hizlsperger(sp?). Lahm tears into the box from the left, and smacks a murderous volley into the upper-V. Incredible. Noone expected that. I suppose it's the rage of getting clobbered by strong hairy Turkey men and not getting a penalty, as you can clearly see above, he feels the pain.
90th minute: Punctuated by another power outage. Goshh. Now I am certain that the Germans will 100% win this unless the Turks score another dramatic euqalizer or something. Highly doubt that. Started celebrating. Coke flying everywhere. Wait. Apparently the game is still going on. Malu. I sit and wait, watching Jien and Adam C talking.
93rd min: Feeds come back on. I see this: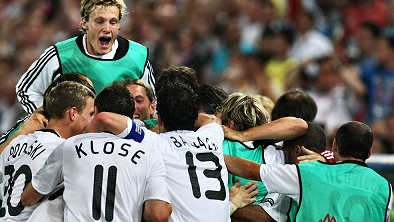 Nuff said. Victory. I am $100 richer, if Zar remembers. &smirks; I see Schweinsteiger with the hat. The hat will one day be MINE. Soooo, people Germany advance and will face Russia I hope for the finals on the 29th. But I highly doubt that, Spain is pretty darn good.